News

Andrzej Bart in Wsola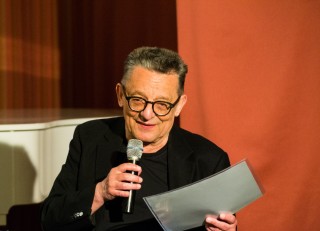 2014-04-24
The starting point for a conversation with Andrzej Bart, an outstanding prose writer, screenwriter, author of documentaries and theater director, was the novel "Rien ne va plus", which was on the list of books selected for a plebiscite on the Polish book of 25th - anniversary, announced by the Programme I of Polish radio.
For this novel released in 1991Andrzej Bart was awarded with Kościelscy award (second edition "Rien ne va plus" revised and expanded, was published in 2005). Bart is also the author of well-known and nominated for literary award novels: " The train to travel" (1999), " Don Juan once again" (2006), " mucholapki Factory" (2008). His works have been translated into French, German, Hebrew, Russian, Slovenian and Hungarian.
3 years ago, Andrzej Bart made his debut in the theatre by his authorial performance " Boulevard Voltaire" (Television Theatre, May 2011). Earlier, in December 2010, " Boulevard Voltaire" was implemented as a radio play of Polish Radio. In 2013, he directed "Apnea" for TV Theatre, he is also an author of the screenplay for the acclaimed "Reverse".
Tomasz Tyczyński spoke with Andrzej Bart about literature and literary life, memory and history, as well as free market culture. This meeting was a bit sentimental because, as Andrzej Bart reminded at the beginning, Tomasz Tyczyński was the author of the first review "Rien ne va plus", which also was the first review of his authorship. To escape the sentimantality, interlocutors reminded how much " Gazeta Wyborcza" cost then and how much the honorarium amount
Photos Eliza Szwede
Komentarze