News

The art picnic at the Witold Gombrowicz Museum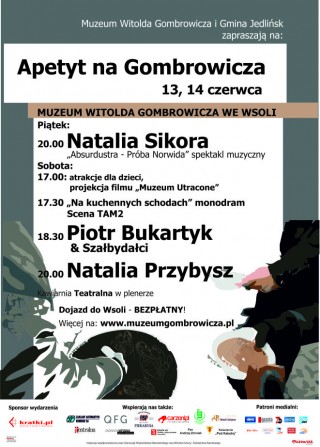 2014-06-13
"Apetite for Gombrowicz" is not weakened also in 2014: on 13 and 14 June there was another artistic picnic organized by Wsola's Witold Gombrowicz Museum with collaboration with the Municipality of Jedlińsk. The event programme was rich and addressed to a wide audience as every year: musical performance by Natalia Sikora, the concerts of Natalia Przybysz and Piotr Bukartyk and also Gombrowicz's monodrams prepared by theatre Scene TAM2.
We started without bias because on Friday the 13th of June, using texts by Cyprian Norwid sung by Natalia Sikora, who was accompanied by the pianist Piotr Proniuk, the author of music to the part of the texts made by the actress. Except the attempt to combine demanding Norwid's poetry and blues, we also heard the compositions of Czesław Niemen. The performance brought Natalia Sikora the Polish Radio award for her acting debut in PR theatre.
On Saturday, we have prepared an attractive program for children: workshops with literary context, the meeting with the mysterious and funny Czocher. Unfortunately, these plans were baffled by extent extremely fickle weather, it also meant that some of the audience decided not to participate in the open-air concerts. They were preceded (fortunately in the palace) by the performance "On the back stairs" based on a short story of Witold Gombrowicz's monodrams show, directed and performed by Dariusz Sosiński, the actor associated with the Kalisz Theatre named after W. Bogusławski and Non-public Impresario Theatre Scene Tam2. It's one of the few Gombrowicz's monodrams, which haven't been set in Wsola yet.
Those who weren't scared by bad weather, were rewarded with a very warm Piotr Bukartyk's sense of humour, who joked even with a power failure, interupting the performance of Piotr Bukartyk two times. This artist needs no introduction, but remember: the author, composer, musician who is moving on the border of many genres, mixing rock, blues, folk and reggae with a cabaret and literal song, known to a wider audience over the years i. a. with Friday's broadcast in the 3rd programme of the Polish Radio.
The devotees of Natalia Przybysz's talent had to have even more self- denial. Her concert started after 8 pm, when the hot summer day turned into a cold spring evening. About two Natalias- Natalia Sikora and Natalia Przybysz one has written that they are "Polish Janis Joplin". Without judging if it is actually a good comparison it should be noted that thanks to the Wsola's concerts both artists confirmed their great potential and skills.
Photos Ireneusz Szwede, Konrad Urbański
Komentarze