News

1st Gombrowicz Panel Discussion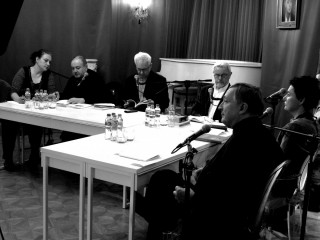 2010-10-16
1st Gombrowicz Panel Discussion on Using Gombrowicz's texts, or What We Do With the Classics?
The discussion was moderated by Prof. Jerzy Jarzębski. Its participants were: Kazimiera Szczuka – a literary critic and historian of literature from the Institute of Literary Studies of the Polish Academy of Sciences; Marian Bielecki – a historian and theoretician of literature from Wrocław University; Anders Bodegård – a Swedish Slavist, translator and expert in Gombrowicz as well as Szymborska and Herbert; Piotr Kłoczowski – a historian of literature, editor, essayist and Deputy Director of the Museum of Literature, and Jean-Pierre Salgas – a French literary critic, professor of history and theory of arts in École Nationale Supérieure d'Art in Bourges.
The transcript from the debate is included in this book.
Photos Ewa Witkowska
Komentarze