News

LONG NIGHT OF MUSEUMS 2010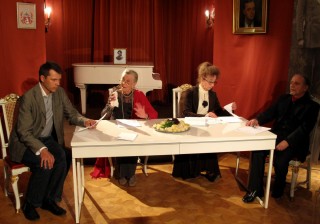 2010-05-15
The programme included: A Feast at Countess Kotłubaj's an adaptation of W. Gombrowicz's text according to the idea of Jan Bończa-Szabłowski; directed by: Asja Łamtiugina.
Actors: Wiesława Mazurkiewicz as Countess Kotłubaj, Aleftyna Gościmska as Marquise, Krzysztof Wieczorek as Baron Apfelbaum and Jakub Przebindowski as Young Man's Gombrowicz Within – Narrator.

A feast after A Feast… or public consumption of a cauliflower and other vegetarian attractions.

Gombrowicz recorded – the audience read Witold Gombrowicz's texts in front of a camera (a Project in co-operation with Radom DAMI TV).
Photos Mateusz Molenda
Komentarze