News

Strong evening in Wsola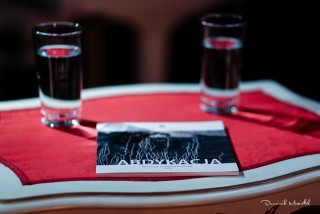 2014-02-09
The author of "Abdication" writes poems with dense, organic stitch, a bit like in its early, imbruing human blood lines acting of Stanisław Barańczak and Ryszard Krynicki. Images, thoughts, words are tightly interwined, hands' vines are joined and mesh of rivers, the chain of nucleotides and Lebanese mountain range, tha carrier circulates among groundwater, arteries fill up with grit and gravel.
Reading poems Radoslaw Wisniewski, keep in the hands of our lives as "burnished walnut", cold, and full of nascent heat grenade when the pin has "thrown overboard" ...
Andrzej Franaszek has written it about the poems of Radosław Wiśniewski.
His 'poems involved and not' from 'The Abdication' volume, Radosław Wiśniewski has read in Wsola, accompanying himself on an electric guitar. After a poetic recital the conversation with the author was led by Jarosław Klejnocki, the poet, critic and director of the Museum of Literature, also a guardian of the series 'literary paper', in which the book of Wiśniewski was published.
Photos Dominik Musiałek
Komentarze