News

Presentation of the Kronos manuscript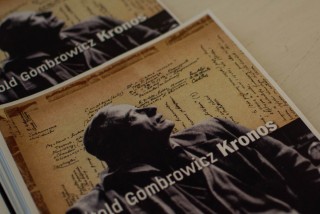 2013-10-25
The manuscript of Witold Gombrowicz's private diary could be seen for only two hours at the Witold Gombrowicz Museum. The National Library's convoy carrying the priceless manuscript stopped in Wsola to make this unusual exhibition possible.
On Friday, 25 October, at noon, the Kronos manuscript was handed over by Rita Gombrowicz and Vera Michalski-Hoffman (President of the Main Council of the Wydawnictwo Literackie publishing house) for a deposit with the National Library. Tomasz Makowski, the Library Director gave his consent to the convoy transporting the valuable manuscript from Cracow to Warsaw for a short-time stop in Wsola at the Witold Gombrowicz Museum. A brief introduction to the presentation was given by Dominika Świtkowska, Ph.D., who was spontaneously joined in by Henryk Citko, the curator of the Manuscript Department at the National Library.
Photo Eliza Szwede
Komentarze